The sensual beauty Girls like Beyonce always attrach every man. Well, let's take a little biography of Beyonce

Biography
Born on September 4, 1981, to a loving family in Houston, Texas, Beyonce (rhymes with fiance) Giselle Knowles showed an aptitude for music before she could even talk. As a young girl, she would drown out everyone, including the choir, on Sundays at church. Every weekend, she tuned her voice by doing soulful hymns with the congregation and then moved on to opera classes, in which she was classically trained.
beyonce in destiny's child
A normal childhood was not in the books for Beyonce. At 8 years old, she met LaTavia Robertson while auditioning for a girl musical group and Matthew Knowles, Beyonce's manager and father, later paired the two with LeToya Luckett. In 1992, cousin Kelly Rowland joined the group, and they performed together on Star Search.
Small gigs and much label-shopping later, the four beauties cemented their relationship by calling themselves Destiny's Child.


In 1997, "No, No, No" became their first official single, and they got off to a big start as the track went multiplatinum. The girls were instantly popular in the media and impressed all with their self-titled debut.
If critics were impressed with this new R&B group's success, they were absolutely floored when The Writing's on the Wall hit stores in 1999. DC, led by the incomparable Beyonce, had three top 10 hits within the year: "Jumpin, Jumpin," "Say My Name" and "Bills, Bills, Bills." They became one of the best-selling female groups of recent memory after this second album sold more than 9 million units worldwide.

At the same time, it was announced that their single "Independent Women Part 1," off the Charlie's Angels soundtrack, had reached the largest audience ever in the recorded radio airplay -- 140.4 million pairs of ears.
beyonce's grammys
Shortly after the announcement of five Grammy nominations at the 2001 awards show and the excitement of the unbelievable record sales, LeToya and LaTavia left the group amid management struggles. Legal problems ensued, but Destiny's Child became whole again with the arrival of Michelle Williams, and, for a short stint only, backup singer Farrah Franklin. At the Grammys, DC took home two awards, Best R&B Song and Best R&B Performance by a Duo or Group, both for "Say My Name."
As a trio, Destiny's Child's third album, Survivor, which debuted in the spring of 2001, garnered a whole new set of hits, like "Bootylicious" and the title track. The success of Survivor resulted in another Grammy for the group in February 2002.


In fact, the American Music, MTV, Soul Train, and Image Awards all showered the group with more hardware and praise.
beyonce in austin powers
After all this success, the group's three talented "sistas" decided to try their hands at solo careers before investing their time in another Destiny's Child album. To no one's surprise, Beyonce captured the bulk of the spotlight with her sex appeal and strong vocals. Even before her first album was organized, she had a hit with Jay-Z called "Bonnie and Clyde '03" and was cracking up audiences with her big-screen debut alongside Mike Myers in Austin Powers in Goldmember (2002). This simply prepared fans for what was to come with Dangerously In Love, released in June 2003.
In 2003, Beyonce ventured onto the big screen again in the musical/comedy The Fighting Temptations alongside Oscar winner Cuba Gooding Jr.
beyonce's crazy in love
Beyonce displayed a versatile style with this solo effort, creating the club hit "Baby Boy," the pop success "Crazy In Love" and the soulful "The Closer I Get To You" with Luther Vandross. Like her work in Destiny's Child, Beyonce wrote or cowrote many of the tracks and performed her heart out on award shows to get the word out to a huge audience. She has emerged as a diva, making the best videos, catchiest songs and creating the most headlines. At 2004's Grammy ceremony, Beyonce took away five awards and was the biggest winner of the night (a feat Lauryn Hill, Alicia Keys and Norah Jones each accomplished in previous years). It was also during this time that Beyonce become involved with her "Crazy In Love" duet partner, Jay-Z.
In 2006, Beyonce hit the big screen again in The Pink Panther with comedic icon Steve Martin. The movie debuted at No. 1 on its opening weekend, and further solidified Beyonce as a double threat in the industry.
beyonce releases b'day
Beyonce's second solo effort, B'Day, was released in September 2006 with much success, selling 3,116,000 copies worldwide (and released on her 25th birthday). The singles "Deja Vu," "Ring the Alarm" and "Irreplaceable" all hit No. 1 on the charts, and the album was nominated for an outstanding five Grammy Awards in 2007.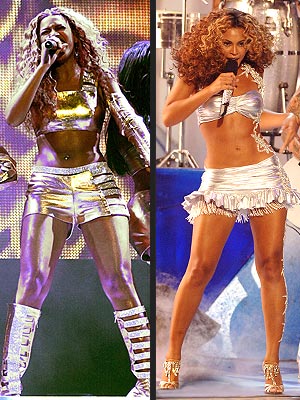 Beyonce was no stranger to award nominations in 2007, however, as her role in the musical Dreamgirls (2006) garnered the star her first official nomination as an actress by none other than the prestigious Golden Globes. She was also awarded the International Artist Award at the 2007 American Music Awards.
beyonce is named no. 14 in 2008 top 99
Beyonce has gained a lot of recognition on AskMen.com. She was voted as the No. 1 Most Desirable Woman of 2007, so it's understandable why she has a high ranking on our Top 99 list of 2008.

With fame, fortune and the most bootylicious booty out there, we just can't seem to get enough of Beyonce.