Why Is She Famous?
Angelina Jolie has starred in thrillers like The Bone Collector and Taking Lives, blockbusters such as Gone in Sixty Seconds, Lara Croft: Tomb Raider, Mr. & Mrs. Smith, A Mighty Heart, and Wanted, and bombs like Alexander. She's also famous for her headlining way of life. From her well-documented marriage to Billy Bob Thornton to her highly publicized romance with Brad Pitt, Angelina Jolie is famous for both her personal and professional lives.
Angelina Jolie
Biography:
Angelina Jolie Voight was born on June 4, 1975, to Oscar-winning actor Jon Voight and actress Marcheline Bertrand. At age 11, four years after making her film debut opposite her father in Lookin' to Get Out, Angelina Jolie began studying acting at the Lee Strasberg Theatre Institute.

Although her dream as a child was actually to become a funeral director, 16-year-old Angelina Jolie worked as a professional model in London, New York and Los Angeles. Musical groups and singers such as the Rolling Stones, Lemonheads, Meatloaf, and Lenny Kravitz cast her in their music videos, and even her brother James Haven Voight directed her in his student films for the USC School of Cinema.
Wishing to get even closer to pursuing an acting career, Jolie studied at L.A.'s MET Theatre Company, which also counts Ed Harris and Holly Hunter among its alumni.
angelina jolie in hackers
Angelina Jolie's first foray into film was of a sci-fi nature, with a supporting role in 1993's Cyborg 2, which didn't even make it to the big screen, and a lead role in Hackers (1995) where she met her future ex-husband, British actor Jonny Lee Miller of Trainspotting fame. They were separated within the year and filed for divorce in 1999.
Angelina Jolie's career as an actress, however, was flying high. She received critical acclaim for Without Evidence (1995) in which she portrayed a drug-addicted teen, as well as for her roles as a rebellious teen known as Legs in Foxfire (1996) and as an Italian girl in love with the son of her family's rival in Love Is All There Is (1996).
In 1997, she had a supporting role in the box office bomb Playing God, starring David Duchovny and Timothy Hutton.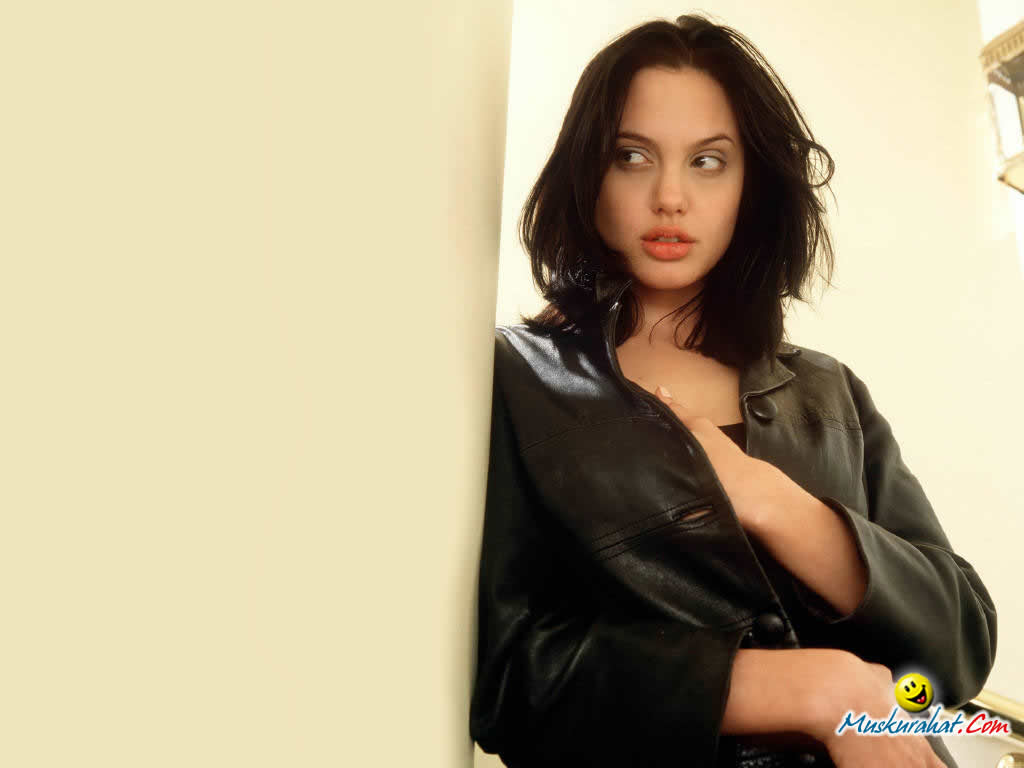 angelina jolie marries billy bob thornton
In 2000, Angelina Jolie eloped with her Pushing Tin costar Billy Bob Thornton, but after they adopted a Cambodian boy named Maddox Chivan Thornton Jolie in 2002, their marriage fell apart and they filed for divorce. While it lasted, their sexually charged marriage was the subject of much tabloid fodder; the eccentric couple carried vials of each other's blood around their necks and were prone to public displays of affection.
In 2001, Angelina Jolie was appointed Goodwill Ambassador for the United Nations High Commissioner for Refugees.
angelina jolie meets brad pitt

After Angelina Jolie starred alongside Brad Pitt in the romantic comedy Mr. & Mrs. Smith (2005), rumors began circulating that the two were an item, even though Brad was in the process of separating from his wife Jennifer Aniston. Although the pair denied the rumors, pictures of them playing with little Maddox on the beach in Kenya emerged in April 2005, and several more tabloid photos in the months that followed confirmed they were an item.
http://apple-guide.blogspot.com/2008/09/angelina-jolie-biography.html